Are you a veteran committed to helping others? If so, you can receive academic credit for your military training and experience, earn an accelerated Bachelor of Science in Nursing (BSN), and transition your skills and experience into a nursing career.
Roseman's Veteran to Bachelor of Science in Nursing (VBSN) admissions pathway offers Veteran students the opportunity for transfer of military experiential credit for applicable prerequisites and/or identified nursing courses. The VBSN pathway maintains the highest academic standards, quality clinical experiences, and NCLEX pass rates, offered through Roseman's on-campus and hybrid-online programs.
Pathway Features
CREDIT for military experiences to satisfy humanities and elective courses shortening the timeframe in completing prerequisite coursework
OPPORTUNITY to test out of identified nursing blocks based on military medical training and experience
DEDICATED onsite VBSN Advisor and Faculty mentor to provide exemplary supports
INNOVATIVE program options that support mastery proficiency learning utilizing a block curriculum format
STATE OF THE ART program offerings and technology to advance the learning process
MULTIPLE start dates (July, August, October and February)
Veteran Advising & Admissions
Need more in-depth information on our Accelerated Bachelor of Science in Nursing (BSN) program?
We are committed to providing you, our Veterans, with the highest standards of service to support your academic journey and transition into your professional career as a nurse.
To ensure that the admissions and application process is clear, we strongly encourage you to contact our Office of Admissions prior to application. The Office of Admissions will be able to identify an applicable advisor that will personally work with you to guide you through the admissions process and determine the transferability of your prior academic coursework.
In addition, and if applicable, we will also review your invaluable military education experience to determine if they are eligible in satisfying prerequisite requirements (humanities or electives) or if you are eligible in testing out of one of the pre-identified nursing courses.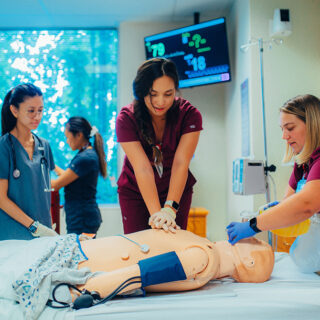 Why Nursing
There are a myriad of reasons why a nursing career is a viable and rewarding choice for a professional career, and nurse salary is competitive. Here are some things to consider as you determine whether it is the right career path for you.