Bethany Hayward: A Passionate Nurse Educator and Nurse Practitioner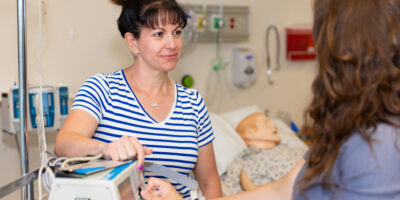 Read the Print Edition of Spectrum
Meet Bethany Hayward, an accomplished and highly respected nurse educator and nurse practitioner. With a career spanning over 18 years, Bethany has pursued multiple degrees and embraced opportunities for growth, all while finding time to be present with her family. Today, she proudly holds three master's degrees, including her most recent achievement from Roseman University College of Nursing's Master of Science in Nursing and Family Nurse Practitioner (MSN/FNP) program.
Born and raised in Phoenix, Arizona, Bethany's journey in nursing was inspired by her mother, who recognized the great potential and fulfillment the profession could offer. She became Bethany's source of motivation and encouragement. Bethany's initial exposure to healthcare came through a Certified Nursing Assistant (CNA) program in high school, which sparked her interest in healthcare.
Bethany went on to earn her Registered Nurse (RN) degree from Mesa Community College and later pursued a Bachelor of Science in Nursing (BSN) from Grand Canyon University. After gaining experience in the field, Bethany earned her master's and completed a dual degree in Master of Science in Nursing (MSN) and Master of Leadership from Grand Canyon University. Most recently, she received her third master's degree in MSN/FNP from right here, at Roseman University.
In 2017, Bethany's sister's youngest child was born with Down Syndrome and later developed leukemia, prompting her to move to Utah to help care for her nephew and support her sister's family. Prior to this, she had worked as a nursing director in education at Banner Health in Phoenix, AZ, and wanted a career that offered better work-life balance. It was then that she saw a teaching position open at Roseman's College of Nursing and decided to apply.
"During the interview process, I felt incredibly welcomed and knew that Roseman was where I wanted to be," Bethany said. Her transition to Roseman University as a nurse educator provided her with an opportunity to continue her education while achieving a healthier balance in her professional and personal life.
At Roseman, Bethany is an Assistant Professor and Skills Lab Coordinator where she teaches in the simulation skills lab. It is here that students can put what they've learned into action and make connections that help them better understand the material. "The classroom also serves as a teacher," Bethany said, "students receive hands-on skills training in the simulation skills lab."
Bethany's journey in nursing education has been a testament to her commitment to excellence and dedication to the nursing profession. Her experiences highlight the importance and effectiveness of The Roseman University Six Point Mastery Learning Model®, which consists of Block Curriculum, Active and Collaborative Learning, Competency-based Education, Assessment Learning, Early Experiential Learning, and a Classroom Design that facilitates learning. All of these components reinforce one another and contribute to an unparalleled educational environment. Roseman University fills the need for innovative nursing education models that cater to a variety of learning styles.
Bethany is a strong advocate for nursing education, and she believes that the nurse practitioner (NP) role is critical to addressing the shortage of healthcare providers in the United States. She encourages those interested in pursuing nursing to consider becoming an NP, which has been shown to be a beneficial member of the healthcare team.
"Nurse practitioners have been shown to have great outcomes when caring for patients, and their ability to become an NP with a master's level degree (without necessarily needing to pursue a doctorate) makes the role accessible to more nurses," Bethany said.
During her clinical rotations, Bethany observed various healthcare practices, both independently owned and operated, and those run by large corporations. It was during this time that she discovered the flexibility that comes with being a business owner. Setting her own schedule, maintaining work-life balance, and having the freedom to develop her own protocols were all factors that drew her to pursue entrepreneurship in the healthcare field.
Following the completion of her MSN/FNP program, Bethany wasted no time in realizing her dream. Simply You Wellness was established in March 2023, a mere six weeks after she obtained her APRN license. This was the same month the state of Utah became the 27th state to allow full practice authority to nurse practitioners. Currently, the practice specializes in weight loss services, but Bethany has plans to expand the range of offerings to include peptide therapy, IV hydration, hormone replacement therapy (HRT), and potentially other services in the future. As of now, all consultations and treatments are conducted through telehealth, but aspires to open a physical storefront in the southern Salt Lake County area.
Simply You Wellness embodies Bethany's commitment to providing holistic health and wellness services while prioritizing personalized patient care. By being in control of her practice, she can dedicate the desired amount of time to each patient, tailoring treatments and protocols to meet their specific needs. Bethany values the ability to make independent decisions regarding patient care, unencumbered by directives from a larger corporate entity.
Looking ahead, Bethany is excited about the future of Simply You Wellness and the possibilities it holds. As she continues to build a client base, she remains committed to providing exceptional care and expanding her service offerings at a physical location where patients can receive in-person consultations and treatments, further enhancing the accessibility and quality of care provided by Simply You Wellness.
Overall, Bethany Hayward is a valuable faculty member of Roseman's College of Nursing and compassionate, driven APRN, with years of experience and multiple degrees under her belt. She is passionate about education and helping her students learn and succeed in their careers.