Roseman Dental Faculty Among Top 2% of Scientists in The World
With research interests in oral cancer, health hazards of tobacco and associated products, and data sciences, three of Roseman University's College of Dental Medicine faculty members; Dr. Kamran Awan, Dr. Shankargouda Patil and Dr. Man Hung, have been named in Stanford University's prestigious global list of top 2 percent of scientists in the world. Stanford researchers compiled the list based on the number of articles published by the researchers and the citations the papers received. The findings were shared in Elsevier, which publishes some of the world's most eminent journals.
Dr. Kamran Awan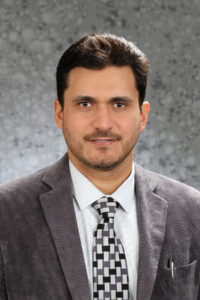 Dr. Awan is an associate professor at Roseman's College of Dental Medicine, and the program director for the Master of Science in Biomedical Sciences at Roseman's College of Graduate Studies. In addition, Dr. Awan has recently been appointed as the first director for diversity, equity, inclusion and belonging at Roseman's College of Dental Medicine. Dr. Awan has acquired a long list of well-deserved achievements throughout his academic career, but here are just a few noteworthy accomplishments that led him to receiving this prestigious honor.
Dr. Awan received his dental degree from University of Karachi, Pakistan and completed his postgraduate training and a doctorate degree (Ph.D.) in Oral Medicine from King's College London, United Kingdom. Dr. Awan is a distinguished fellow of the Pierre Fauchard Academy, Academy of Dentistry International, American College of Dentists, and International College of Dentists. He is an active member on several International Association for Dental Research/American Association for Dental, Oral, and Craniofacial Research (IADR/AADOCR) committees and is the immediate past chair of AADOCR Committee on Diversity & Inclusion.
In addition to his rigorous education, Dr. Awan has published many scientific papers in peer-reviewed journals and has lectured extensively both nationally and internationally on the topic of oral cancer and precancer from the level of basic science to the diagnosis and management. Over his academic career, Dr. Awan has published over 125 peer-reviewed articles and has an H-index of 24. He also serves on the editorial board and peer review panel of various medical and dental journals.
Dr. Awan is an expert in oral cancer, and his research interests include screening of oral cancer and precancer, developing clinical and laboratory tests to name risk subjects to assist in early detection of oral cancer, developing tumor and genetic markers for diagnosis and examining risks of oral cancer in different populations and the delivery of interventional programs directed at cessation of tobacco and areca nut usage. Currently, he is working on a national-level research project to assess the knowledge, attitude, and practice of American general dentists towards HPV associated oral cancer.
Dr. Awan's seminal work on the use and accuracy of new chair-side tools for the early detection of oral potentially malignant lesions has greatly proven useful to common dentists. Given the many thousands who are affected by oral cancer every year, its demonstrable and regrettable fatality, and the general need for improvement of oral healthcare worldwide, Dr. Awan's work to address those issues and his tangible results serve as sufficient indicator of the great value he brings to the oral health field.
Dr. Shankargouda Patil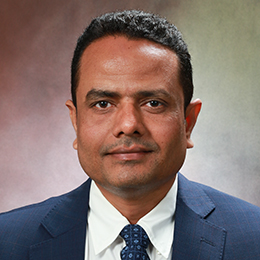 Dr. Patil published more than 500 articles according to the PubMed database, received more than 7,500 citations according to Google Scholar, and has achieved an H-index of 33. Dr. Patil is a visiting adjunct professor of Oral Pathology at the University of Siena, School of Dental Medicine, Italy. Currently, he is a fellow at the Faculty of Dental Surgery, Royal College of Physicians and Surgeons in Glasgow, United Kingdom, and an active fellow of the Royal College of Pathology, International College of Dentists, and Pierre Fauchard Academy. He is a distinguished professor with the Centre of Molecular Medicine and Diagnostics (COMManD), Saveetha Dental College and Hospitals, Saveetha Institute of Medical and Technical Sciences Saveetha University, located in Chennai, India.
Dr. Patil received his Doctor of Dental Medicine degree from P.M. Nadagouda Memorial Dental College in Bagalkot and Sree Balaji Dental College in Chennai, India, and his PhD from the University of Siena. Before joining Roseman University, Dr. Patil was an associate professor at the Department of Maxillofacial Surgery and Diagnostic Sciences, the Division of Oral Pathology at the College of Dentistry at Jazan University in Saudi Arabia from 2016-2022.
Along with his academic career, Dr. Patil actively volunteers as the editor-in-chief of The Journal of Contemporary Dental Practice (JCDP) and World Journal of Dentistry (WJD) and is on the editorial board of various international dental and medical journals, including Clinical Oral Investigations and Heliyon. Despite his busy schedule, he has published over 250 peer-reviewed papers in impact-factor journals and has given numerous lectures at national and international societies. Roseman is excited to welcome Dr. Patil to America, at our South Jordan, Utah campus, with this great honor.
Dr. Man Hung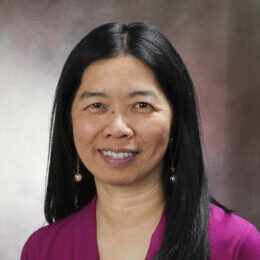 Dr. Hung is the senior associate dean for research and graduate education at Roseman's College of Dental Medicine, the director of clinical outcomes research and education, as well as the director of data science research and training program in the College. Dr. Hung's credential and background cut across multiple disciplines. She received a Bachelor of Science degree in Biology and a Bachelor of Arts degree in Chemistry from San Francisco State University. From the University of Utah, she then received a PhD degree in Research & Statistical Methods and Psychometrics, a Master of Science degree in Information Technology, Science and Math Education, a Master of Science degree in Statistics, a Master of Science degree in Data Science, Information Systems, and Graduate Certificates in Digital Security, Cloud Computing, Systems & Software Architecture, Database Design, Management and Web Development. She also received a Master of Business Administration degree with specialization in Leadership and Crisis Communication & Management from
Texas A & M University.In 2022, Dr. Hung was honored as an Expertscape World Expert in disability evaluation, for which she was placed in the top 0.17 percent of scholars in writing about disability assessment and evaluation during the past ten years. Furthermore, she was recognized as among the top 2 percent scientists in the world; specifically, she was placed in the top 0.11 percent in public health, top 0.42 percent in orthopedics, top 0.07 percent in neurology and top 0.73 percent in clinical medicine per study conducted by Stanford University. She has an H-index of 43.
Dr. Hung has extensive knowledge and experience in both qualitative and quantitative research methods and has in-depth background and experience in teaching and conducting a wide range of studies including basic science research, translational research and clinical research in various fields. She has taught and mentored thousands of faculty members, residents and students in research, statistics, data science, information technology, assessment, project management and beyond. Additionally, she has served in various capacities such as president, treasurer, web developer, social media chair, diversity, equity and inclusion chair, and councilor in numerous regional, national and international organizations, as well as serving in NIH Study Section. Her research was funded by many private foundations, state and federal agencies such as NCI, NCATS, NIAMS, NIDCR, NINDS, HRSA, CDC, FDA and more.
"Our faculty here at Roseman made these accomplishments through the support of the Office of the Associate Dean for Research (ADR) at the Roseman College of Dental Medicine. The ADR handles the development and enhancement of the research infrastructure at the Roseman College of Dental Medicine," said Dr. Frank Licari, dean of the College of Dental Medicine. "We are proud of our professors in making Stanford University's prestigious global list of top 2 percent of scientists in the world. This global recognition proves Roseman's dedication to exemplary world-class research and providing space for our faculty to pave roads to new frontiers of discovery."