Roseman University College of Nursing Partners with StraighterLine
Roseman University College of Nursing announced today a partnership with StraighterLine, the leading provider of affordable, online college courses, to make it easier for students to overcome financial and scheduling constraints to meet their academic needs for admission to nursing school.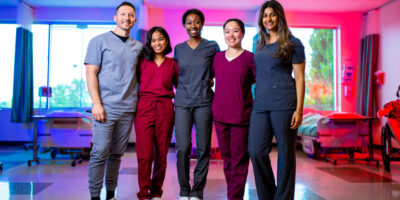 Students can choose from 30 StraighterLine courses in subjects like anatomy and physiology, microbiology, chemistry, statistics, English and humanities, which will transfer seamlessly to Roseman for prerequisite credit.
With campuses in Henderson, Nevada and South Jordan, Utah, the Roseman University College of Nursing offers an accelerated Bachelor of Science in Nursing (BSN) with two learning modality options – Hybrid-Online enrolling three times per year or On-Campus enrolling once per year. Roseman's partnership with StraighterLine allows students to take self-paced, low-cost, ACE-recommended general education courses that easily transfer to their school, so they can save money and time on their degree.
"We are excited to partner with StraighterLine which provides our potential students with a high-quality, flexible pathway for completing nursing prerequisites.  The online, self-paced delivery of course content meets the demands and expectations of today's learners," said Roseman University College of Medicine Dean Dr. Brian Oxhorn.
The United States has experienced a nursing shortage for the last decade. When the pandemic hit, it presented a need for increased nursing care at a time when a number of nurses were reaching retirement age. According to the U.S. Bureau of Labor Statistics, jobs for registered nurses (RNs) are projected to increase by 9% through 2030.
"At StraighterLine we believe in helping learners succeed on a pathway to employability and career success. Health and science careers are on the rise and the demand for nurses is high," said Dr. Amy Smith, Chief Learning Officer at StraighterLine. "We are proud to partner with Roseman University College of Nursing to help educate current and future generations of nurses in an affordable and flexible way to meet their needs."
Built and managed by educators, StraighterLine's high-quality, affordable online courses and student support help institutions meet the needs of diverse student populations, including high school graduates entering college, current students wishing to accelerate their degree path, or adult learners starting or returning to school. All StraighterLine courses have been reviewed by the American Council on Education (ACE) and are recommended for credit transfer at over 2,000+ colleges and universities.
In addition, students who take courses through StraighterLine receive free eTextbooks, live student support 7 days a week, free transcript processing, and 24/7 free on-demand tutoring and writing help online.
"One of the greatest benefits of taking online courses through StraighterLine is our wraparound student support," said Smith. "We provide students with all the resources, tutoring, tools and flexibility they need to succeed."