Roseman University College of Pharmacy Alumn's Pills2Me App Selected for 2023 Google for Startups Black Founders Fund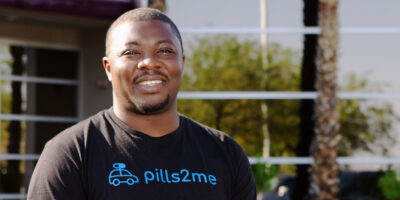 On July 13, Google for Startups announced the 2023 recipients of its prestigious Black Founders Fund. Among the 23 recipients is Las Vegas-based Pills2Me, a medication delivery app.
Founded in 2020 by Leslie Asanga, PharmD, MBA, MPH, a graduate of Roseman University's College of Pharmacy and the Yale School of Public Health, the Pills2Me app offers a range of features to give patients easy access to medications, including on-demand prescription delivery from any pharmacy. This year, medication therapy management services were added to the app offering patients access to personalized medication reviews to ensure they are taking the right medications at the right time, and to address any potential drug interactions or other issues.
The Google for Startups Black Founders Fund offers awards recipients $150,000 in equity-free cash to help fuel their business as well as sales and fundraising training, technical support from Google mentors, up to $100,000 in Google Cloud credits, and mental health coaching from a team of Black therapists. Recipients also receive leadership training and connection and support from fellow founders as part of the Google for Startups alumni network.
According to Google, the Google for Startups Founders Fund community continues to grow around the world. Over the past month, it has welcomed a total of 99 Black Founders Fund recipients in the US, Africa, Europe and Brazil. Since 2020, it has provided more than $45 million in cash funding to 547 Black and Latino founders. The program has seen its Founders Funds have a catalytic effect for founders, helping them raise further capital. Past recipients have gone on to raise over $400 million in investment after being selected and they've used these funds to create jobs and grow their revenues.