Roseman's Fulbright Specialists Enhance Global Education & Relationships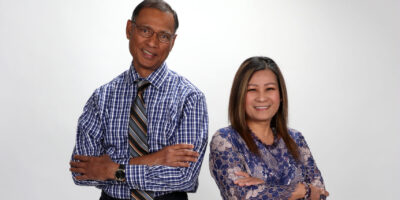 Established in 2001 by the U.S. Department of State's Bureau of Educational and Cultural Affairs, the Fulbright Specialist Program brings together distinguished academics and leaders with host institutions around the world. The goal is for these accomplished people to share their knowledge as part of a larger cultural exchange, with the hope of increasing global relationships, entrepreneurial opportunity, and making the world a better place.
The Fulbright Specialist Program is a prestigious part of the larger U.S. Fulbright Scholar Program, which sends American scholars, artists, faculty, and professionals abroad to lecture and/or conduct research for up to a year. The Fulbright Specialist Program is similar, but instead of residing in a host institution abroad, U.S. academics and established professionals engage in two- to six-week, project-based exchanges at host institutions across the globe. Through these short-term impactful exchanges, not only do host institutions receive some immediate support for their own initiatives and objectives, but it also strengthens and starts sustained collaborations between academics and professionals in the U.S. and those institutions overseas.
Roseman University is fortunate to have two Fulbright Specialists among its faculty. College of Nursing Assistant Professor Marife Aczon-Armstrong, PhD, MSN, MSCP, CCM, RN-BC was first selected in 2014 and the College of Pharmacy Professor of Pharmaceutical Sciences Manas Mandal, PhD joined the roster in 2019.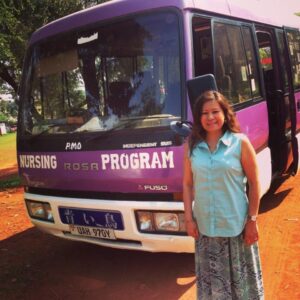 Dr. Marife Aczon-Armstrong beams with excitement when she talks about how she became a Fulbright Specialist. Her journey in the program began in happenstance following a tour of Uganda Christian University where she spotted a bright purple bus with the words "Nursing Program" painted in white on the front.
It was in early 2013 and Aczon-Armstrong, a nurse and nurse educator, was on a mission in Uganda, Africa with her church, Kailua Community Church of Hawaii, along with 20 other members. The country of nearly 50 million people is the world's second most populated landlocked nation. It sits on the north shore of the continent's largest freshwater lake, Victoria, and is known for its diverse landscape. It is often referred to as the "Pearl of Africa," due to its many ecosystems, from the tall volcanic mountains of its eastern and western frontiers to the densely forested swamps of the Nile River, and rainforests on country's central plateau. However, like many of its neighboring countries, Uganda suffers from a high rate of poverty in its tribal villages and dense urban cities. Despite recent drops in its poverty rate, it remains among the poorest nations in the world.
In a medical clinic set up by the church in Nateete, an urban neighborhood five miles southwest of the bustling capital city Kampala, Aczon-Armstrong and seven other medically trained missionaries examined and treated families from the neighborhood and surrounding tribal villages for two full days. She recalls families walking for hours from their tribal villages to receive much needed medical care. The mission trip also supported an orphanage, SIITA Nest Mother's Love Home, in Jinja, located about 50 miles east of Kampala where the headwaters of Nile River form out of Lake Victoria.
"On the final day of the mission trip, Moises, one of the older orphans that the church supported to attend college offered to take us to Mukono, a district located about 13 miles east of Kampala, to tour Uganda Christian University where he was attending Law School," said Aczon-Armstrong. "That's where I spotted the purple bus," she exclaimed.
After returning to Hawaii where she served as a full-time Assistant Professor at University of Hawaii at Manoa School of Nursing's Veterans Administration Nursing Academy, Aczon-Armstrong felt drawn to the purple bus and the nursing program at Uganda Christian University. As a nurse educator whose favorite color happens to be purple, and a devout Christian, she felt in her heart that the encounter with the purple bus was more than serendipitous. She saw it as a sign.
"I immediately looked up the official website for Uganda Christian University to learn more about its nursing program," said Aczon- Armstrong. "I was impressed with their mission and vision, which were aligned with my beliefs and aspirations as a nurse educator."
She wrote a letter to the university's Vice Chancellor expressing her desire to help educate nursing professionals in Uganda. At the time, she learned there were only two PhD-trained nursing educators in the entire country. There was a great need for more people to help mentor nurse educators and train new nurses to meet the medical needs of the developing country. Much to her surprise, just two days later Aczon-Armstrong received an email from Dr. Karen Drake of Bethel University in Minneapolis inviting her to teach at Uganda Christian University through a one-year Fulbright Scholarship.
With a young family at home, Aczon-Armstrong chose to apply for the Fulbright Specialist Program. "I was not sure if I would be chosen because it was a competitive and rigorous application process," she said. "A panel of experts appointed by the President is responsible for making the determination if an applicant has the knowledge, skills and education to be ambassadors to foreign countries."
After applying just a day before the deadline in September 2013, Aczon-Armstrong waited months to hear back. She was excited to learn she was selected when a letter arrived on her birthday, November 26, 2013. She had been awarded a five-year Fulbright Specialist grant in Public/Global Health at Uganda Christian University.
Since her appointment, Aczon-Armstrong has been teaching courses in Teaching and Learning Processes for Adults and Nursing Research in the nation's only master's in nursing program.
"I learned a lot from them in regard to the school system and, of course, the culture," said Aczon-Armstrong of her time at Uganda Christian University. "They are very respectful and joyful people. They are eager to learn and grateful for all things. It was such a humbling and enriching experience."
Today, she continues to teach at Uganda Christian University, with her Fulbright Specialist grant renewed.
For Dr. Manas Mandal, the process to become a Fulbright Specialist was less about happenstance and more about a deep desire to share knowledge, combined with persistence.
A native of India, Mandal thought about applying to the program for many years. "I always wanted to work in international arena with my expertise in immunology, and at the same time I also wanted to 'give back' to my home country of India by contributing to medical education, which is at a crossroad in India as it is in many other countries around world," said Mandal. "With my decades of research and teaching experience in immunology, vaccine, immunotherapy in the U.S., I felt well-suited to share and contribute to the improvement of medical science education."
In summer 2019, Mandal felt inspired to finally complete the arduous application process. He hunkered down in his office for weeks compiling years of research, teaching and international collaborative work as well as writing a compelling story. "The essay I wrote started with 'I grew up in a small town in West Bengal, India learning about white blood cells under the microscope of my dad who was a physician,'" Mandal said. "I believed that this image, personification of my upbringing, education, and desire to learn as a child was the most convincing argument for my application. I was able to relate that early childhood experience with my international engagements in India for the last 15 years as an educator-scientist."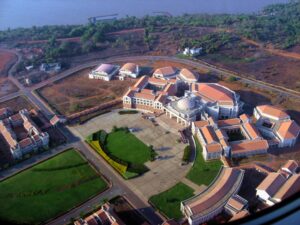 Mandal was officially awarded a Fulbright Specialist appointment in September 2019. Unfortunately, just months later the world would be gripped by the COVID-19 pandemic, halting travel. As the COVID-19 pandemic began to ease in 2021, Mandal worked with his host institution, the Birla Institute of Technology and Science (BITS), Pilani, Goa Campus and submitted a proposal to the Nehru-Fulbright commission in India to teach Infection, Immunity, and Immune-based Therapeutics with a focus on COVID-19. Following the commission's approval, it was sent to the U.S. Department of State and the Fulbright Scholarship Board for approval.
With the proposal approved, Mandal will travel to Goa later this year for a four-week engagement at the private university that focuses on technology and sciences education and research, located 350 miles south of India's largest city, Mumbai. His goals are to teach the course to bachelor's and master's students, as well as work with BITS's resident faculty in implementing Roseman's "mastery learning" and "active learning" pedagogy. Mandal hopes that it will open future collaboration between Roseman and BITS faculty in areas of scholarship of teaching and learning.
Mandal is also working with BITS faculty to organize a two-day symposium entitled "COVID-19 Pandemic, Lessons Learned, and Way Forward." Serving as joint organizing secretary and chair of the scientific committee, he has already helped the symposium secure sponsorship from the Serum Institute of India (SII), the largest vaccine manufacturer in the world and manufacturer of Astra Zeneca's COVID-19 vaccine, Covishield.
Mandal said, "this symposium is my brainchild, and I am so happy that the host institution not only welcomed the proposal, but already approved it. We have formed the scientific, organizing, and other committees, and started inviting well-known scientists, clinicians and health policy experts as speakers."
For Mandal and Aczon-Armstrong, being appointed to the Fulbright Specialist roster has offered a tremendous boost to their personal careers and professional development.
Mandal said, "It is a lifetime achievement and honor for me, as I always wanted to become a Fulbright Scholar. As a Fulbright Scholar, I join the most prestigious and august body of individuals, many of whom have gone on to win the Nobel Prize and became Heads of States. I am in the company of these Steller individuals and this simple fact encourages me to do more, rise above the threshold and achieve further individually and for Roseman."
He adds that it is a tremendous honor for an institution to have a Fulbright Scholar as an employee, and that Roseman has two of them is a cause for celebration.
In summing up what it means to be a Fulbright Specialist, Mandal shares a 'sloka' in Sanskrit, "Swadeshe Pujyate Raja, Vidwan Sarbatra Pujyate," meaning "A King Is Respected In His Own Country, But A Wise Man/Scholar Is Universally Respected."